InsightView
Background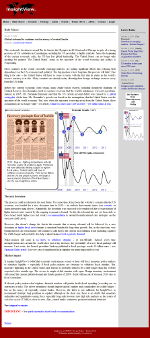 InsightView aims at providing thoughtful insights about political, macro economic and financial events and trends with speed and frequency. InsightView comments fresh data online.
Macro economic news is added into its historical data series (charts) flavoured with historical and could-be parallels. Each data point is commented in global perspective, financial market consensus perspective as well as InsightView's own outlook perspective. InsightView provides its own outlook (scenarios/storyboards) about potential trends in global financial markets and economy. InsightView takes a global top-down approach and makes a subjective filtering of global news flow.
Problem
The information on the original website needed to be presented in a more structured and consistent way. When publishing several news articles with several images (and flash content) each day, the time it takes from having written the very essence of the article and until the final result is presented to the public needed to be minimal. A "simple" CMS could help with this problem, but a lot of customization was also needed.
Solution
The solution is based on CMS Made Simple while the design from the original website is kept intact.  As mentioned above there has been quite some customization, where the internal link system and email management system has been the biggest challenge. Furthermore the article creation is tightly integrated with other third party applications, which is handled through dynamic tags.
Website
Software and technologies used