Nexxus of Faith
Background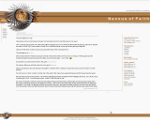 Nexxus of Faith (NoF) was a high end european raiding guild in the mass multiplayer online role playing game (MMORPG) Everquest. Even though the guild was european based, it had members from all over the world. The guild had 100+ players and the community forum had close to 800 registered users with more than 120.000 posts.
Problem
Planning most of the evening for 32-72 people 4-7 days a week requires both commitment, time, ressources and tools. That along with a community forum was all this site was about.
Solution
Invision Power Board and EQDKP were installed as core applications and then lots of additional features were made from scratch. Features which helped the guild leaders to plan and manage the daily tasks assigned to running a guild. Features which helped the guild to keep status and track of both the guild's and each individual's progress in the ever evolving world of Everquest.
Website
Software and technologies used
PHP, MySQL, Invision Power Board and EQDKP