Øresundskollegiets Fodboldklub '97 (ØKF)
Background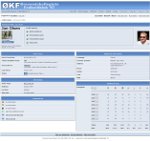 Historically, ØKF sprang from the studying environment of Øresendskollegiet. Today, it is a self-standing football club with members from all areas of Copenhagen. A large portion of the members have moved to Copenhagen from Jutland, Zealand and Funen.
ØKF was founded in the fall of 1997, and since then has grown very rapidly. Today, the club has 8 men's tournament teams at the senior level including a seven aside team, and 2 women's teams, an 11 and a 7 man squad.
The clubs Men's First team is in the 1st Division, and the rest of the teams are distributed down through the levels. The teams are grouped by ability. We have players from all ranges of abilities: those who have been youth national team players and some who have never played in a club before.
Problem
With an increasing number of registered players and teams there was a need for easy, fast and intuitive adminstration of every aspect of the club. One of the clubs corner stones are the social life within and outside the club, so a community forum was also needed.
Solution
Invision Power Board was installed as the core of almost every function on the site. Several customized modules (managing players, teams, matches, match results, etc.) were developed and embedded into Invision Power Board.
Coppermine Gallery was installed and are serving as the gallery for all the photos from football matches, partie, etc.
Google Apps are being used to handle the calendar and emails for all the administrative people in the club.
Website
Software and technologies used
PHP, MySQL, Invision Power Board, Coppermine Gallery and Google Apps